Our Company
For more than 30 years, the vision for Zenus Global Health has been to promote optimal wellness - changing lives one at a time - with groundbreaking products while opening the door to a unique opportunity that connects people on so many levels. The company has been at the forefront of what is now called the wellness movement, sharing the Zenus story and our products with the world.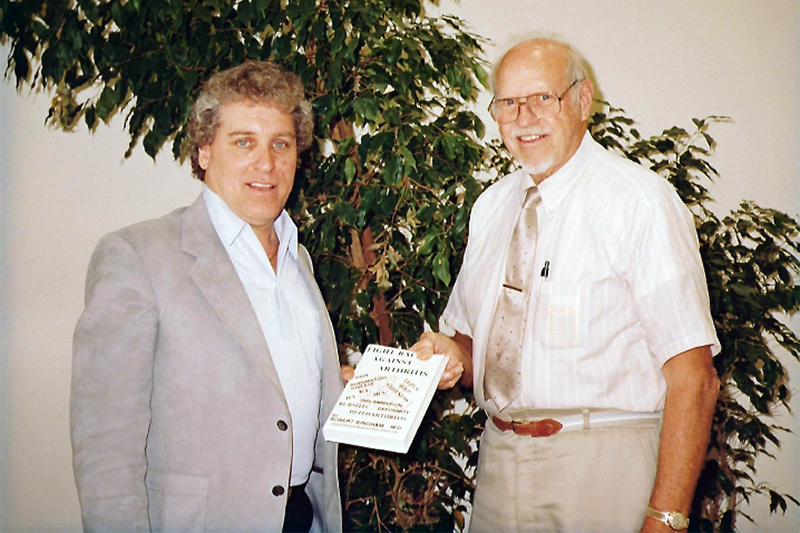 Doug Widdifield & Dr. Robert Bingham 1989
History is Our Inspiration
Zenus as we know it today evolved from a collaboration between company founder Doug Widdifield and Dr. Robert Bingham, an orthopedic surgeon, who concluded after 40 years of treating his patients with conventional drugs and surgery that there must be a better way to heal people.
Dr. Bingham (right) was more than a trailblazer in the study of arthritis and its links to nutrition. In the last years of his life, his first choice of treatment became herbs and vaccines to treat his patients. He declared to the whole world that "NO DRUG can cure any disease" and synthetic steroids eventually make a disease worse. He believed that holistic health was the best way to treat and prevent disease, becoming one of the first medical doctors who embraced natural healing remedies.
Not only was this a bold and courageous stance at the time, but also it served as an inspiration for what would become our flagship product, Optimum D-Tox.
The continuing research of Schidigera saponins is being conducted in more than 100 universities and research institutes in over 14 different countries - and growing. In both osteo and rheumatoid forms of arthritis, (saponin) proved to have overall and specific beneficial effects.
Dr. Robert Bingham | Journal of Applied Nutrition, Fall 1975
It was a distinct privilege to associate with Dr. Bingham and his work, especially as he tested the effects of Schidigera yucca saponins on patients at his California clinics. We soon discovered that most of his patients felt less pain, stiffness and swelling in their joints. Others also received additional benefits such as—migraine relief, lower blood pressure as well as cholesterol and triglyceride reduction. These were important times and his early case studies inspired our company as it formed in the 1980s. Dr. Bingham also theorized that "Yucca saponins aid digestion and tend to break down the high molecular fats in foods whose absorption contributes to high blood pressure, hardening of the arteries, hypertriglyceridemia and hypercholesterolemia. They also work as cleansing substances which help prevent absorption of harmful bacteria and protozoa from the bowel that cause stiffness and inflammation in the joints. These compounds also appear to improve circulation." Needless to say, we remain truly grateful to Dr. Bingham for his great contributions as it was an honor to associate with him until his passing in 1994. His quest to prove the effectiveness of whole-food supplements became our quest as well, having given us a glimpse into the power of these substances produced by nature.
An Important Turn of Events
Throughout the early 1990's much of what would become Zenus Global Health found its root both in the United States and Canada as our first members started to spread the message. Soon enough, however, the world opened its doors to us by way of an unexpected source - the People's Republic of China.
The Chinese have been regarded as the foremost authority on herbal remedies and they harbor no prejudice between traditional and naturopathic medicine. Traditional methods tend to be used for emergency and short-term treatment; natural remedies are used more for long-term conditions and illnesses. As we soon came to discover, Chinese Herbal Medicine has remained an unbroken tradition going back to the 3rd century BC. It forms a major part of their healthcare system today and is provided in state hospitals alongside western medicine. Their research community still launches studies into every aspect of its use, so in the final analysis it should have come as no surprise that the Chinese government became curious about our products.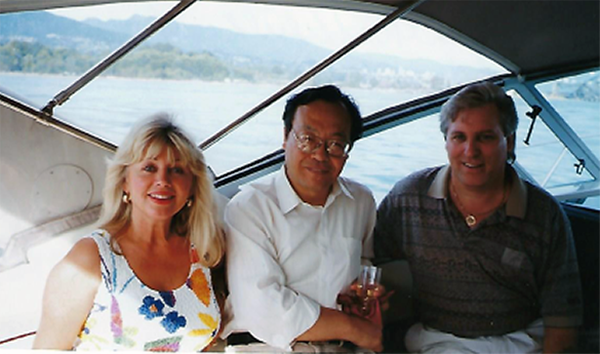 Doug & Krystyna Widdifield with the Chinese Federal Minister of Health 1995
In 1996, after nearly 4 years of clinical studies had been conducted, two of our herbal formulations were granted import permits by the Federal Ministry of Health - making Zenus the first-ever foreign company to achieve governmental approval. This milestone has remained a great source of pride for us over the years because it proved yet again that our commitment to our products had basis, and that our success in the marketplace was warranted.
Doug & Krystyna Widdifield
Today, even as our global footprint continues to expand into Asia, Europe and Australia, we have never lost our curiosity or forgotten the importance of these events. Nor have we lost our passion to serve a workplace left under siege from the pressures of eroding nutrition, workplace stress and the overwhelming dangers of poisons and toxins. The challenges are infinite and we are no closer to solving the root cause of chronic disease; in fact, we spend more for health care than ever before, and never have we been so under threat.
The all-encompassing journey towards optimal wellness and the validation we receive from our customers continues to affirm the legacy we established more than 30 years ago: To engineer products that battle disease in all its forms, to bring people together in that quest for optimal wellness and to make a difference for people in need of our whole-food products. Doug and Krystyna Widdifield (above, right) hope you become members as Zenus embarks on reaching a new generation under threat of chronic disease and remains poised for yet another period of explosive growth as people discover the efficacy of our products.
Zenus is a premier whole-foods nutritional company and we bring products to market which support a balanced and healthy lifestyle. What makes our company unique in the industry is the individualized coaching and support that our members receive and how they inspire so many others when they share their own success stories with Zenus products. This includes the most powerful detoxifying formulas in the marketplace today in Optimum D-Tox and Esseniac Herbal Tea. The richest source of Vitamin C on the planet, found in every bottle of C-Food. The most effective, whole-food chelator in Kelate which promotes relief from dangerous toxic heavy metals. And then there is Powre, which features both the highest natural concentration of an amino acid known as Citrulline and potent antioxidant properties that are crucial to your health.
And that's precisely why our customers receive a great deal more than supplements, as we regard them as an emerging class of wellness-conscious consumers who have a plan to meet or exceed personal nutrition, weight-management and wellness objectives. As there is no healing without teaching, we cannot repair and restore our bodies without first recognizing that our living systems need additional support to optimize balance and extend our quality of life.
Eliminate the toxins - restore balance and enjoy wellness. It's that simple!